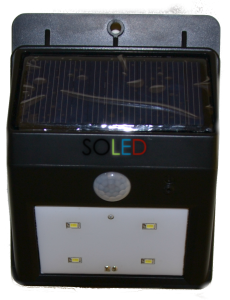 Motion Sensing Solar Light
SOLED Motion by Saurya
Perhaps the easiest light that you can ever buy. All you have to do is to install it outside where you want light. The light will turn on automatically during the night by sensing a person's motion.
Ideal for homes, schools and communities.
Turns on only during night by light detection.
Turns on only when a person is near it by motion detection.


Solar Powered
No installation or electricity hassle. Fix it anywhere you want.

Water Proof and Heat Proof
Built for rugged Indian outdoor conditions.

Motion Sensor and Light Sensor
Light will detect motion and low light to turn on automatically

Over 12 hours of battery life
One full day of charging keeps the light on for a long time.
Get a Quote / Order this product
SOLED Motion
Light sensor and motion sensor integrated solar light