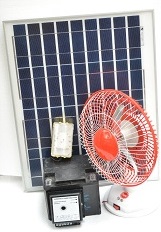 Solar Fan and Light: Complete Solar Package
 Solar Fan and Light
This Package comes bundled with multiple LED based Lights and fan along with all installation items. Saurya assures the high quality of the product at a reasonable cost. The Solar fan and light are directly attached to whole system that would be required for a regular set up.
With this product get a complete ease of mind from irritating power cuts. This package will provide you independence from power cuts by covering your lighting and cooling needs. The package is complete in the sense that once you connect the wires, there is nothing more required, your system is basically connected.
Please note that you can separate the system and make it just a solar fan system or a solar light system. We will replace one item with the other and so you will get two same items with the system.
With this package you will get:
Solar Panel
Battery and other equipments
Fan
Lights
Key Features :

Cooling Fan
Desk fan attached to the system will provide cooling independent of power supply. No need to dread those long powerless hot nights.

Special designed LED light
The solar light is specially designed for a wider area. The system will provide enough light for one medium sized room.

Complete system bundle
Wires, mounting structures and all other equipment are included. You will not have to worry about any component, this is a complete system. All you have to do, is to use it.
 Sealed Maintenance Free Battery
Charge Controller for protection
 Upto 2 days of backup

 50 W/ 100 W solar PV panels.
 Customize according to your needs
Best in-industry support
Get your free quotation
Ask a Question
External Resouces
Tags:  Solar Fan, Solar Fan price, Solar package, Solar light, Solar LED light, solar light, solar emergency light, solar light price, solar light cost