Solar Lamp
SOLED Series by Saurya
Beautifully crafted solar Lamps to give quality performance year after year.
These are manufactured from best of materials, and reach you after stringent quality control. This Solar Lamp comes with a mobile cable that can be used to charge your mobile phone also. It is compatible with AC grid and can be charged with standard plugin point.
This solar lamp can be used for different purposes such as solar emergency light, reading light etc.
SOLED Solar Lamp comes with option of folding solar panel, so that you can carry the solar panel with you easily wherever you go.


Solar Powered 
Take the solar lamp with you wherever you go.

Charge Cellphones and other devices 
Easy USB cable option available to charge devices like iPod, iPad, mobiles etc.

Adjustable Bright Light 
3 levels of adjustable brightness.

AC Charging 
Need battery for long run? You can also charge using standard AC outlet.

Fold-able Solar Panel 
Optional uniquely designed solar panel that can be folded for easy travel.

Weather Resistant  
The solar lamp is water resistant and heat resistant.
SOLED Solar Lamp features: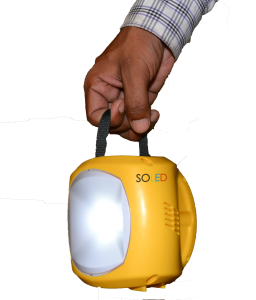 Battery Indicator
Compatible with AC grid
Multiple settings for brightness
Long lasting LED and panel life for 10 + years
1 mobile cable and 2 connectors for standard mobile phones included
Weather resistant
Shock proof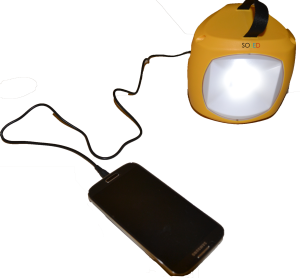 Saurya EnerTech is an ISO 9001:2008 certified company. Get the best solar products from Saurya's range of SOLED, eLite and Saurya products. Saurya is known for its high quality and excellent support. Still not convinced? Talk to a Saurya Solar Consultant today.
Order this product / get a quotation now
External Resources
Solar Lamp LED
High powered solar lamp with different brightness and charging options. It can work as an emergency solar light or as a regular lamp.
Tags: Solar lamp price, solar lamp cost, solar lamp india