Dr.Satyendra Kumar
Alma Mater: IIT Roorkee, IIT Delhi, Pennsylvania State University, Ecole Polytechnique
Professor Satyendra Kumar is one of the pioneers of the solar industry with over 28 years of experience in research and development on solar cells and flat panel displays. He has contributed significantly to the physics and technology of amorphous, micro- and nano crystalline silicon solar cells. He is mentor to many young professionals pursuing solar energy research in different parts of the world. Dr Kumar directed commissioning of over 200MW of PV power plants. Led award winning design and development of plug and play roof-top PV systems. He led the team for monitoring, O&M and root cause analysis of over 200MW of solar PV power plants employing different technologies spread across India.
Dr. Vibha Tripathi
Alma Mater: IIT Kanpur
Dr. Vibha Tripathi is an alumnus of IIT Kanpur, where she supervised research and development of flexible organic solar cells, a unique idea which has a potential to be a disruptive technology. At IIT Kanpur she was also a mentor to many research projects and students working in the R&D of solar cells. Dr. Tripathi specializes on the research and development of thin film solar cells and has held a number of workshops and seminars in the field of renewable energy. Dr. Tripathi has been working in solar for over 15 years  and her research and academia focused background has allowed Saurya to focus on what matters the most in Solar Energy; making it more accessible.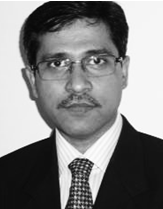 Mr. Bikash Kumar
Alma Mater: IIT Chennai
Bikash Kumar has over 18 years of experience in the PV Industry, spanning across major PV Company of India. He has pioneered decade long effort of PV technology development and deployment during early commercialization era of late 90's at BP Solar. He has contributed immensely in evaluation and development of many commercial processes & equipment's for mass manufacturing of PV technologies during early evolution of PV industry. He has a passion for Photovoltaic & Physics with strong analytical & statistical skills and has Master's from India Institute of Technology, Chennai. He holds a worldwide patent and has presented multiple papers in Global PV conferences on new processes and technology.

Mr. Raghuram Indarapu
He has all round project management experience of 22 years in implementation of mega Solar and Fluid (Water/Gas) distribution Projects. He is expert in applied innovative design and engineering expertise. He is known for executing fast, uncompromising quality installation. He has been involved with close to 175 MW of grid connected EPC and has been a member of various strategy groups of multinational firms, before joining Saurya.

Dr.Sanjay Kaul
Alma Mater: IIT Roorkee, University of Pennsylvania
Dr. Sanjay Kaul holds degrees in Energy Engineering and Energy Management & Policy from IIT, India and University of Pennsylvania , USA . His expertise includes Renewable Energy Systems, Advanced Mobility Concepts, Sustainable Development and Appropriate Technology, Energy Politics in Developing Countries, Energy Management and Environmental Energy Systems, as well as Distance Learning. Dr. Kaul has authored and co-authored various publications on energy technology and policy in internationally renowned books and academic papers.

Dr. Rashmi Sanghi
Alma Mater: University of Allahabad
Dr Rashmi Sanghi is currently working as a Research Scientist at The LNM Institute of Information Technology, Jaipur. She obtained her D.Phil degree from Chemistry Department, University of Allahabad, India in 1994. Eversince she worked at the Indian Institute of Technology Kanpur India as Senior Research Scientist till 2008. She has traveled worldwide for various academic activities and/or professional talks.She has over 75 international journal publications to her credit. She has published two books on green chemistry: "Green Chemistry: Environment Friendly Alternatives" and "Green Chemistry and Sustainable Development".